Speedcraft Auto Group Announces Winner of the $5K Test Drive

Winner David T. Test Drove and Bought a Volkswagen Passat TDI
Wakefield, RI—Today, Speedcraft Auto Group announced the winner of their hot-ticket summer promotion, the 5K Test Drive Giveaway. The event drew entrants from across the region, eager to test drive a vehicle of their choice for the chance to win $5,000. The winner was David T., a Speedcraft Volkswagen customer who test drove a VW Passat TDI.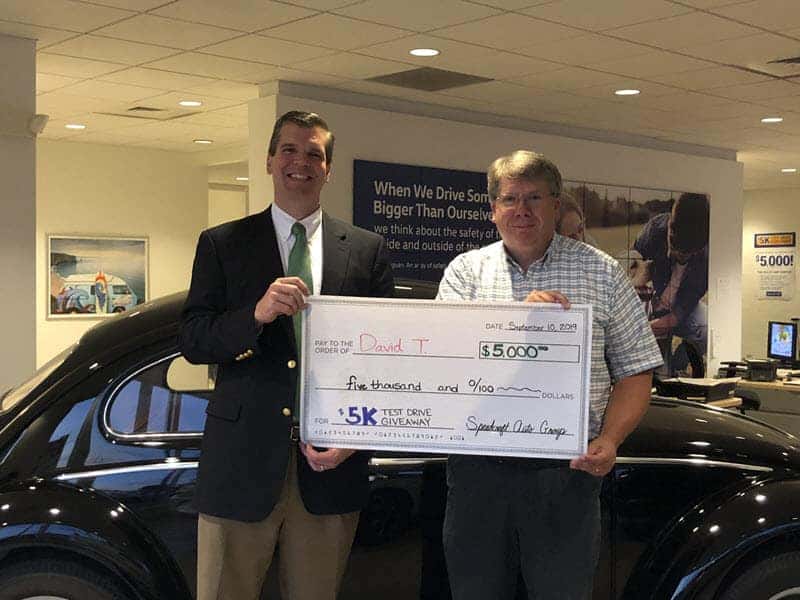 His name was drawn by a Speedcraft service customer and her daughter, who gamely played along. David was overjoyed to take home the winnings, saying, "I've never won anything before." There's a first time for everything, and Speedcraft was happy to see the prize go to such a deserving customer.
David was satisfied with his test drive, too. He chose to buy the VW Passat TDI and says he is happy with the high gas mileage he sees on the highways.
This is the first time Speedcraft has offered a promotion like this. The contest, which ran from June 1st to August 31st, reflected the company's desire to do something fun and different this summer. James Dartt, Vice President of Speedcraft, said the promotion was intended to offer an enticing taste of what makes the Speedcraft Advantage so special.
The event was so successful that a repeat showing is already underway. The latest 5K Test Drive Giveaway began on September 1st and will continue through the end of the year. Participants have until December 31st to enter. Speedcraft Auto Group wishes all participants good luck!
About Speedcraft Auto Group: Speedcraft provides local Rhode Islanders with Acura, Nissan, and Volkswagen vehicles, as well as top-tier auto service and parts. All Speedcraft stores are Rhode Island-owned and -operated. They pride themselves as a local business and see events like these as the perfect opportunity to strengthen their roots in the community.
###