Nissan Altima vs Toyota Camry

Going head to head, the 2020 Nissan Altima vs. Toyota Camry comparison is a competitive one. Both sedans feature driver-friendly amenities you'll come to enjoy in Warwick, Providence, and Coventry. Finding the right sedan for your lifestyle is important.
Every day, your drive will be a little bit different, but it's important to be able to rely on a vehicle to get to your destination. Speedcraft Nissan has created this review to take a closer look at these two vehicles and what they offer.
Altima vs Camry: Performance
Dynamic performance comes standard in both the 2020 Nissan Altima and Toyota Camry, thanks to a 4-cylinder engine. The Nissan Altima comes with a 2.5-liter direct-injection gasoline engine, which offers close to 200 horsepower. The Camry is also equipped with a 4-cylinder engine that makes 203 horsepower—capable output for those who blend highway and city driving.
The first-ever variable compression turbocharged engine is only found under the hood of the latest edition of the Altima. While other engines only carry a fixed compression ratio, this engine is able to adapt by raising or lowering pistons. You won't find this kind of technology under the hood of the latest edition of the Camry.
Nor will you find available all-wheel drive functionality. The winters around here can make for tricky driving. The Nissan Altima has the available all-wheel drive capability, while the Camry does not.
Making the Driving Experience Easier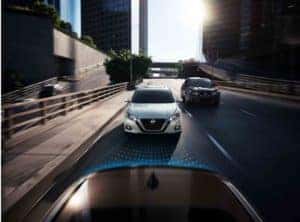 It's all about making your driving experience easy. That's what a car should be able to do, and with the Nissan Altima, you'll benefit from these features you either won't find or will have to pay extra for in the Camry:
Key Activated Remote Engine Start
Easy Fill Tire Alert
Power driver's seat
Remote Engine Start is a great feature to have because you'll be able to start your car even before you get in. The Altima will be warmed up and ready to go, or cooled down on a hot summer day.
Easy Fill Tire Alert is another helpful Altima feature. You'll know if your tires need air, with an alert popping up in the dashboard area reminding you to fill up. When you do fill up, the horn will beep when the tire has reached its perfect pressure.
Altima vs Camry: Dimensions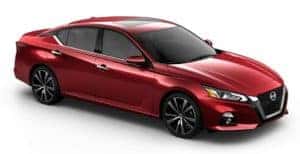 Both sedan interiors are equipped with everything you need to succeed. When it comes to smartphone capability, you'll have Apple CarPlay® and Android Auto™ to lean on. All you have to do as a driver is connect your smartphone using the USB port, and you'll have access to your favorite apps, music, and so much more. Look out, though, your passenger may try to wrestle control away from you.
As for the space inside the vehicle, the Altima has plenty of it. You don't want to feel cramped in the car you're driving, but the 42.1 inches of front legroom in the Camry can have that effect on drivers and passengers. Why not choose the Altima, known for its 43.8 inches of front-row legroom? It's a spacious way to ride.
As for the trunk, you may have plenty of cargo to bring along for the ride. The entry-level Altima carries a 15.4-cubic-foot trunk, while the Camry measures in at 14.1 cubic feet. When you need the sedan with more trunk space, it's the Altima.
Nissan Altima vs Toyota Camry: The Sedan Verdict
With its spacious interior, all-wheel drive capability, and smart engines, the Nissan Altima lives up to the Warwick, Providence, and Coventry hype. Take the wheel of the Altima with a test drive here at Speedcraft Nissan.
In the 2020 Nissan Altima vs. Toyota Camry conversation, it's time to direct your attention to the latest edition of the Altima here at our dealership.