Local Spotlight: Rhode Island Community Food Bank
Did you know that one in eight households in the Ocean State lacks adequate food? It's an unfortunate and sad reality, but the Rhode Island Community Food Bank has been working hard to turn the tide and help families and individuals in need across the state.
This organization has done incredible work. Through compassion, innovation, and collaboration, the Food Bank is making a difference in the lives of Rhode Island residents. Let's take a closer look at what they've been able to accomplish, and where they're hoping to make an impact next.
The Important Facts You Need to Know
The Food Bank is able to distribute food to people in need through a large member network of 168 agencies. These agencies can include food pantries, shelters, meal sites, youth programs, and senior centers. Over 50,000 Rhode Islanders receive food assistance at one of these locations each month.
Last year alone, the Food Bank was able to distribute 11.6 million pounds of food. Many individuals and families are impacted by hunger every day.
With a 77,000-square-foot facility, a fleet of trucks and professional staff, the Food Bank is able to collect, store, and distribute food from various sources. Each week, up to 200,000 pounds of food will head out the doors. It's all about serving Rhode Islanders in need.
Giving Back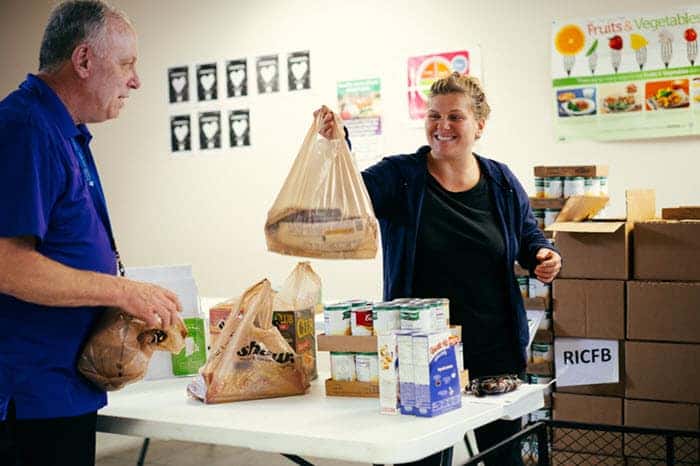 There are many ways to give back and help the Food Bank. Donating funds is one way to go about things. You can use the online donation page, call, or organize an online fundraiser. The Sustainers Harvest program is a great way to get involved. This allows you to set up monthly donations, which will be deducted from your credit card automatically.
You can also make a difference by hosting a food drive of your own. Consider organizing a food drive in the neighborhood or at your school, business, or organization. Posters and collection bins can be provided to make things easy for you. Drop-off donations of non-perishable food items are also accepted on weekdays at the Food Bank.
Join in for a fun evening of volunteering and networking at Food Bank After Hours, perfect for those who work during the day, but still want to find some time to give back at night. Groups and students are also welcome to come and volunteer at the Food Bank.
A Commitment to Serving Those in Need Here in Rhode Island
Hunger is a crisis facing many Rhode Island residents each and every day. Young and old, male and female, each day there are people in our state who do not know where their next meal will come from. The Rhode Island Food Bank has been working tirelessly to serve those in need here in the Ocean State.
Get in touch with the Food Bank to donate your time, or give back with what will be a greatly appreciated donation. With your help, the Food Bank will be able to continue serving Rhode Island residents each day.
Connect on Facebook.