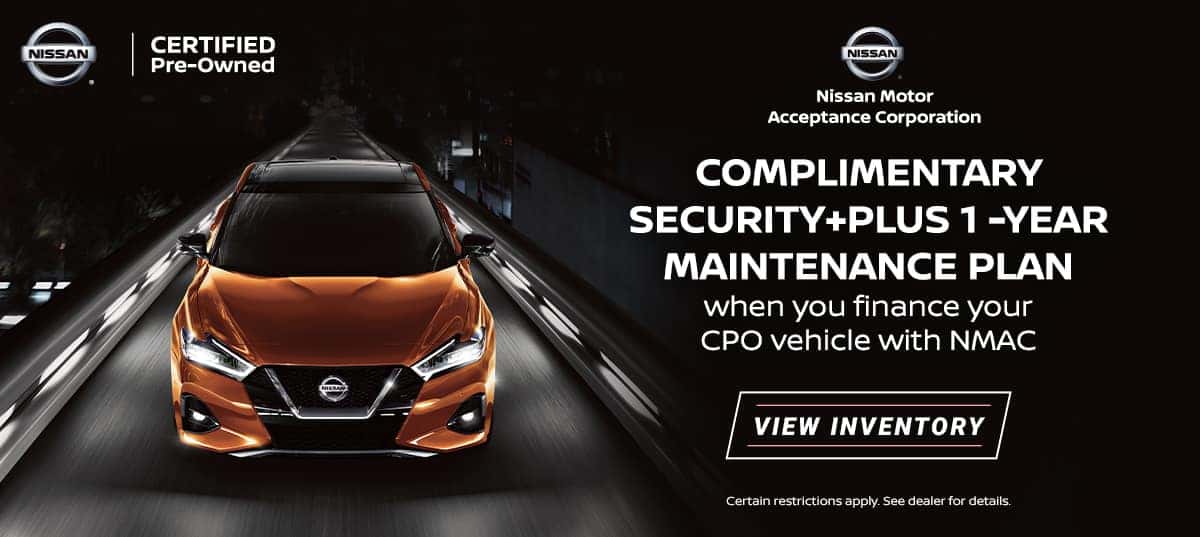 Customers that purchase a Nissan Certified Pre-Owned vehicle and finance through NMAC will receive a complimentary 1-year Nissan Security+Plus Basic Prepaid Maintenance Plan for their vehicle.
The Basic Maintenance Plan includes up to two oil & filter changes and two tire rotations.
---
Program Details
Only Nissan Certified Pre-Owned vehicles financed through NMAC are eligible (contracts dated October 1, 2019 – March 31, 2020)
Customers receive a welcome letter from Nissan Security+ Plus approximately 30 days after the CPO vehicle is purchased.
No Action Required – Customers are automatically enrolled for the complimentary 1-Year Basic Maintenance Plan and coverage is activated when the customer welcome letter is mailed.
If a customer purchases a Nissan Security+Plus Prepaid Maintenance Plan when the vehicle is purchase, the complimentary 1-year Basic Maintenance Plan is null and void and will not be issues.
The 1-year Basic Maintenance Plan is non-cancellable and non-transferable by the dealer or customer.